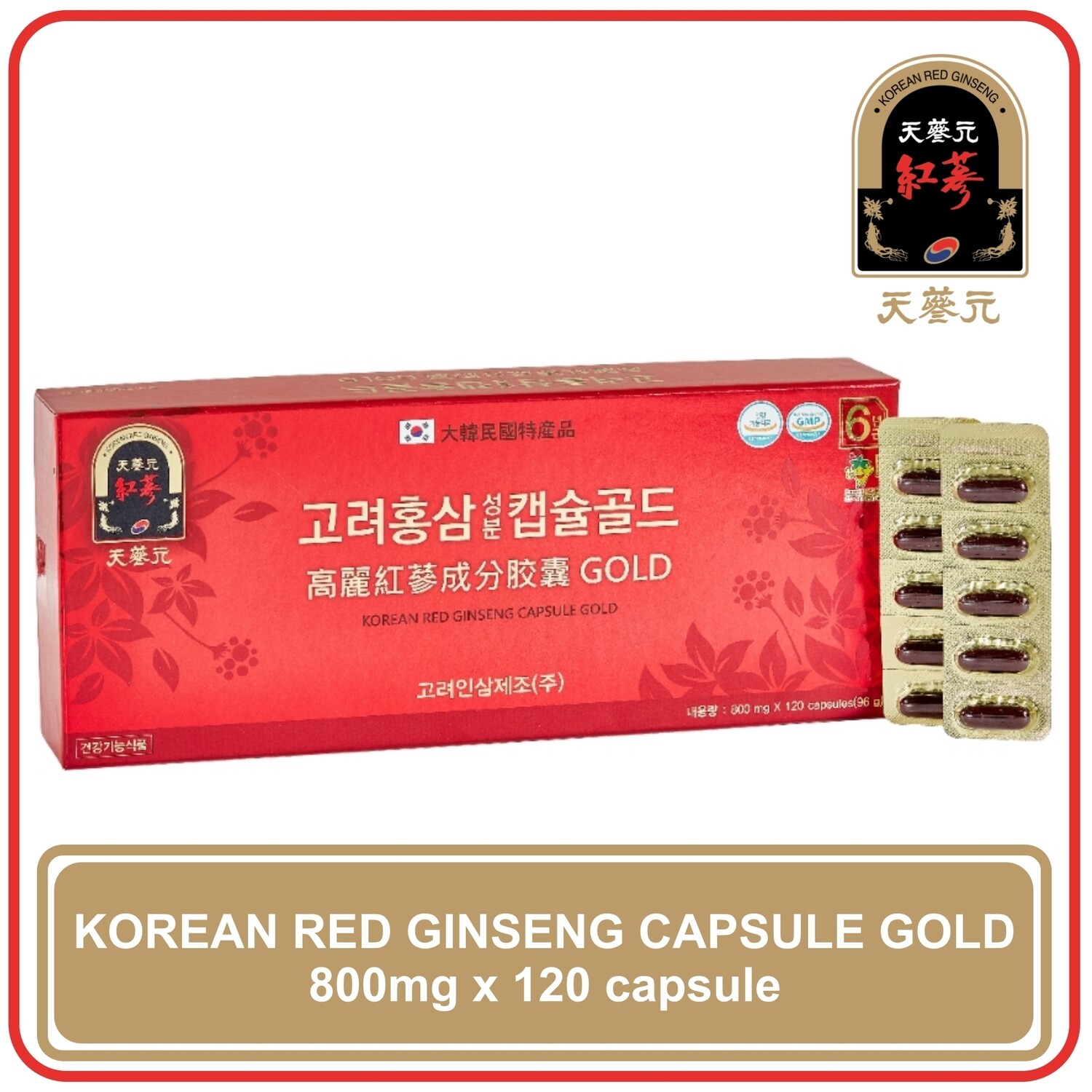 Korean Red Ginseng Capsules 800mg x 120 capsules
capsule800mgX120
Product Details
CHEON SAM WON Korean Red Ginseng Gold Capsules 800mg x 120 capsules
홍삼 캡슐 Premium food product made from premium Korean Red Ginseng and natural ingredients to help promote blood circulation and anti-oxidant by boosting immunity/reliving exhaustion / improving memory / inhibiting platelet aggregation. Suitable for everyone in the family.

Content: 800mg x 120 capsule ,

Ingredient: Korean Red Ginseng Extract, Soybean Oil,Palm Oil, Mixed Plants Concentrate(Lingzhi, Korean Angelica Root, Selinum Striatum, Deer Antler), Beeswax, Royal Jelly, Dl-α-Tocopherol acetate, Vitamin B
Recommendation : 3 times a day, 2 capsule per serving.

Cheon Sam Won | 천삼원 | 天蔘元 was established in South Korea since 1971 as a professional red ginseng company. We have very high-quality standards and keep the 6 years old Red Ginseng in a top-notched low, high-temp. cold storage. You can find our products all over the world and in many of the Duty-Free stores across Asia.
What is Red Ginseng?
Ginseng produced in the right place 6-year-old fresh ginseng of good quality.
Carefully selected, unpeeled Steamed for a long time dried
Ginseng with pale yellowish brown or redish brown
It is classified into 1-5 grades according to its shape, and turns into red ginseng after washing, steaming, and drying.

We guarantee quality based on our promise and trust with our customers

• GMP & HACCP

• No artificial colors
• No preservatives
• Antioxidant effect
• No sugar / Suitable for Diabetics
• Helps improve blood flow
• No Trans Fat / Saturated Fat
• No Cholesterol
Note: If on diabetes or anticoagulant medication, please consult your doctor/physician prior to consuming this product.
Save this product for later