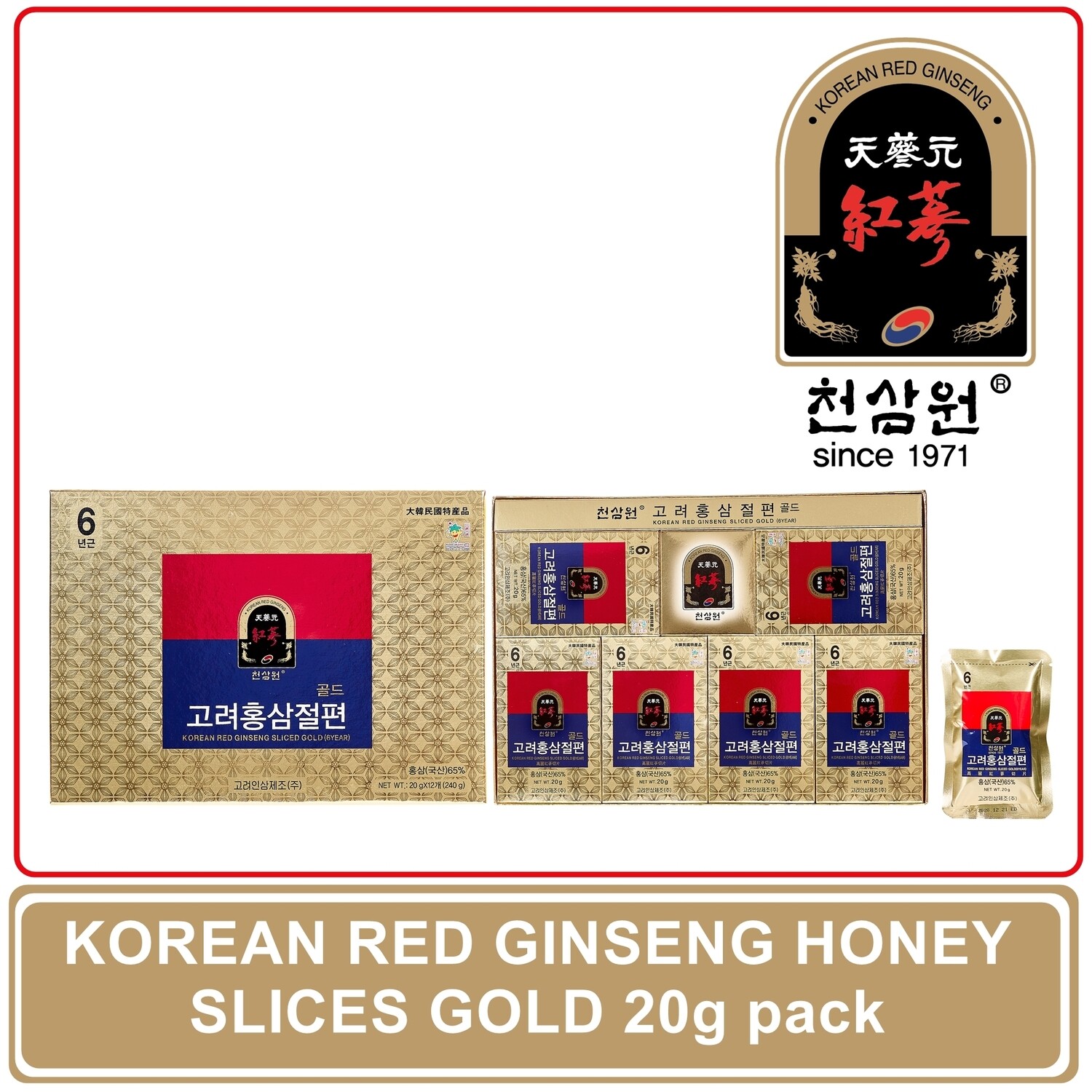 Korean Honey Red Ginseng Slice Gold
GinsengSlice
Product Details
CHEON SAM WON Korean Honeyed Red Ginseng Slice Gold
Goods for anyone to enjoy sliced Red Ginseng preserved in Korean honey conveniently. Sliced Korean Red Ginseng in Korean honey for easy consumption by anyone. Even people who don't like the bitter taste of Red Ginseng can enjoy it.

Content: 20g x 3 pack, 20g x 12 pack

Ingredient: Premium Red Ginseng 65%, Honey 10%, Fructose 12.5%, Isomaltooligosaccharide 12.5%

Available in the following :

3 Pack Experience
12 Pack Gift Pack
Recommendation : Taking 1-2 piece according to your preference, suckle it in mouth to get the full bodied taste and best results. Chew it well and drink plenty of water with it.
Cheon Sam Won | 천삼원 | 天蔘元 was established in South Korea since 1971 as a professional red ginseng company. We have very high-quality standards and keep the 6 years old Red Ginseng in a top-notched low, high-temp. cold storage. You can find our products all over the world and in many of the Duty-Free stores across Asia.
What is Red Ginseng?
Ginseng produced in the right place 6-year-old fresh ginseng of good quality
Carefully selected, unpeeled Steamed for a long time dried
Ginseng with pale yellowish brown or redish brown
It is classified into 1-5 grades according to its shape, and turns into red ginseng after washing, steaming, and drying.

We guarantee quality based on our promise and trust with our customers

• GMP & HACCP

• No artificial colors
• No preservatives
• Antioxidant effect
• No sugar / Suitable for Diabetics
• Helps improve blood flow
• No Trans Fat / Saturated Fat
• No Cholesterol
Note: If on diabetes or anticoagulant medication, please consult your doctor/physician prior to consuming this product.
Save this product for later