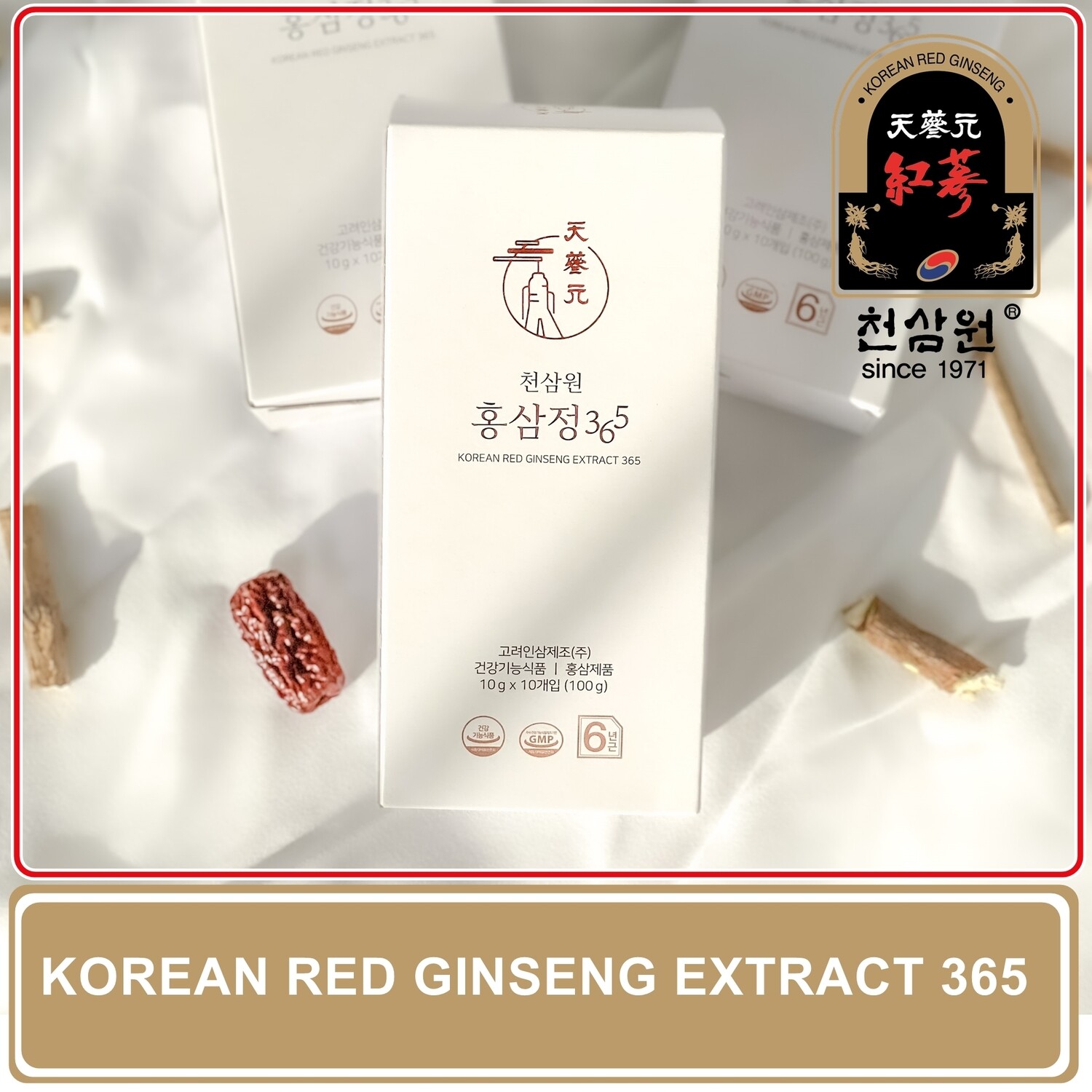 Korean Red Ginseng Extract 365 – 10ml per stick
Extract 365
Product Details
CHEONG SAM WON Korean Red Ginseng Extract 365
– 10ml per pack for easy consumption

– Daily drink pack
– Easy tear design
– Small and handy to put in bags, handbags and anywhere you go.
Each box contains 10 packs of 10 grams each.

Ingredient: Premium Red Ginseng extract 7%, Purified water 27.9%, Honey 24%, Dextrin 3%, Oligosaccharide 16%, Jujube extract 17%, Kudzu root extract 7%, mixed extract animal and plant 1%, Herb flavor 0.03%
Cheon Sam Won | 천삼원 | 天蔘元 was established in South Korea since 1971 as a professional red ginseng company. We have very high-quality standards and keep the 6 years old Red Ginseng in a top-notched low, high-temp. cold storage. You can find our products all over the world and in many of the Duty-Free stores across Asia.
In South Korea, red ginseng has been approved by the Ministry of Food and Drug Safety for six functions including helping improve immunity, relieve fatigue, boost blood circulation through the inhibition of platelet aggregation, improve memory, and enhance the health of climacteric women [So S.H. et al., 2018].
What is Red Ginseng?
Ginseng produced in the right place 6-year-old fresh ginseng of good quality
Carefully selected, unpeeled Steamed for a long time dried
Ginseng with pale yellowish brown or redish brown
It is classified into 1-5 grades according to its shape, and turns into red ginseng after washing, steaming, and drying.
We guarantee quality based on our promise and trust with our customers
• GMP & HACCP Certified
• No artificial colors
• No preservatives
• Antioxidant effect
• No sugar / Suitable for Diabetics
• Helps improve blood flow
• No Trans Fat / Saturated Fat
• No Cholesterol
Note: If on diabetes or anticoagulant medication, please consult your doctor/physician prior to consuming this product.
Save this product for later